News
---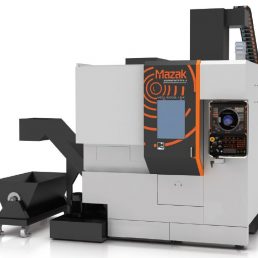 BLUSA Defense Manufacturing is proud to announce that we now have 5-axis machining capability thanks to a powerful and versatile addition to our CNC Machine Family. We have just finished installing a Mazak VCU-500A/5X Vertical Machining Center. This machine has full 5-axis capabilities with a CAT-40, 10,000-rpm spindle allowing us to accurately and cost effectively […]
Read More....
---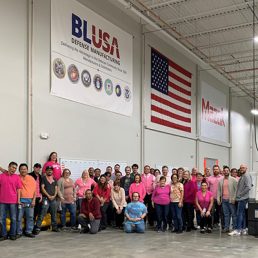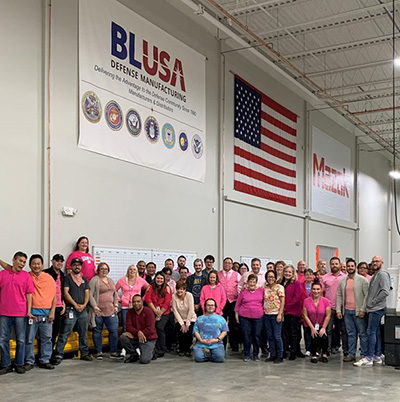 October is Breast Cancer Awareness Month. Breast Cancer kills 40,000 American women each year and every year we wear PINK to raise public awareness and show our support for those that are battling this disease. For 2019, BLUSA Defense Manufacturing wants to do more so we are partnering with the Susan G. Komen organization to […]
Read More....
---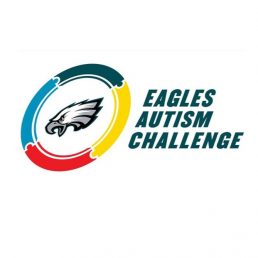 BLUSA Defense Manufacturing was proud to support the 2019 Eagles Autism Challenge. More than 3,000 walkers, runners, and bikers participated in this year's Challenge, including several from our ranks. We were proud to see Team BLUSA Defense Manufacturing represented when the participants took to Lincoln Financial Field. The yearly one-day bike ride and family-friendly 5K […]
Read More....
---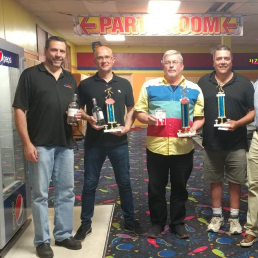 Over 40 employees and 50 guests were in attendance at BLUSA Defense Manufacturing's 6th Annual Employee Appreciation Night. The attendees included staff and family members from both the Barrington and Camden locations. We had a great turnout at 30 Strikes Bowling, in Stratford, NJ. Everyone came together for a fun-filled evening of competitive bowling while […]
Read More....
---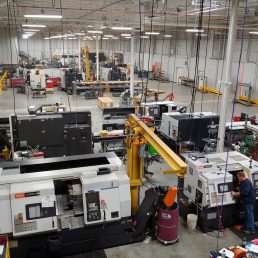 We are pleased to announce that Bright Lights USA, Inc. dba BLUSA Defense Manufacturing, has relocated both our Barrington and Camden operations to our newly renovated Mount Laurel, New Jersey location. All departments including engineering, manufacturing, operations, shipping and administration are enjoying full production capabilities. The move was completed as scheduled, with less downtime than […]
Read More....
---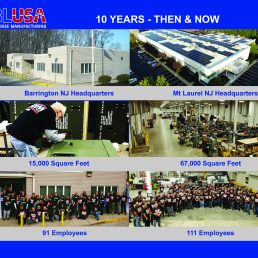 Another decade has gone by. Here's a quick glance at BLUSA Defense Manufacturing then and now.
Read More....
---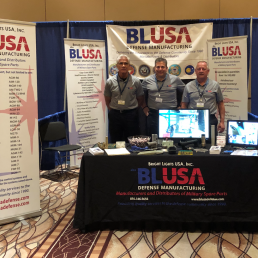 Las Vegas, Nevada – BLUSA Defense Manufacturing was proud to be an exhibitor of the Fifteenth Annual Joint Munitions World Wide Review (JMWWR) that was held from Sunday through Friday, September 22-27, 2019 at the RIO All-Suite Hotel and Casino. The JMWWR is an event that gathers members of the global munitions community together to […]
Read More....
---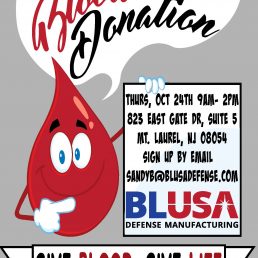 BLUSA Defense Manufacturing is proud to partner with the American Red Cross and our Mount Laurel neighbors Equipment Depot and PPG Aerospace to host a Blood Drive this month. Blood is the most precious gift that you can give to another person, it is literally "the gift of life". Your donation, about one pint, can […]
Read More....
---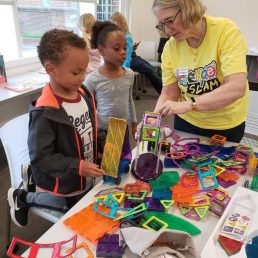 BLUSA Defense Manufacturing was happy to sponsor The Rowan College of Burlington County STEM Department and their 2019 Science Slam Event that was held on Sunday, May 5th at the Mount Laurel Campus. This widely popular event featured dozens of science related experiences for students including coding workshops, computer-based games, and chemistry demonstrations with the […]
Read More....
---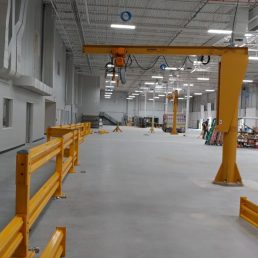 The renovation of the new BLUSA Defense Manufacturing building in Mount Laurel NJ is in full swing. Dan Farber, President and CEO of BLUSA Defense Manufacturing, is in the process of modifying and upgrading nearly every inch of the 67,000 square foot building. Extensive upgrades including a new elevator, a climate-controlled production, airline and […]
Read More....
---