12 Month Renovation- Soon to be Complete!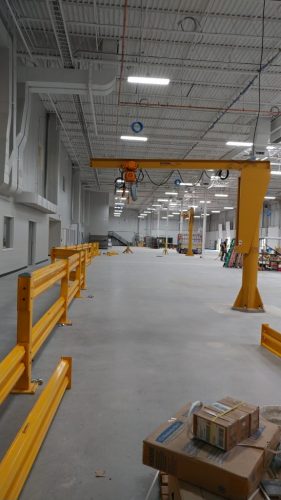 The renovation of the new BLUSA Defense Manufacturing building in Mount Laurel NJ is in full swing.
Dan Farber, President and CEO of BLUSA Defense Manufacturing, is in the process of modifying and upgrading nearly every inch of the 67,000 square foot building. Extensive upgrades including a new elevator, a climate-controlled production, airline and compressor systems, as well as upgrades to the electrical capacity to accommodate our CNC machines, Wire EDM machines, Programmable Automatic Saws, and motorized Gantry Cranes. The building is also energy efficient with additional building insulation, solar panels, new energy efficient windows, and 100% motion activated LED lighting. These modifications were necessary to create a state-of-the-art defense manufacturing hub. By re-configuring walls to maximize our specific manufacturing processes, 11000 Midlantic Drive now has designated paint booths, welding booths, tool crib spaces, an Electrical Lab, a 3D Printing/Modeling Department, and a Quality Assurance Department.
The 2nd floor office space includes an open floor plan geared towards collaboration, spacious cubicles, and a contemporary grey color scheme with pops of blues. Large windows overlook the heart of the manufacturing floor on one side and tree lined landscaping on the other, making for incredible views. The 120-seat cafeteria has been upgraded with new furniture, appliances, and counter-tops complete with USB charging stations. There is also a new wellness center with a full gym including weights, cardio equipment, and Suspension Training straps. For a protected outdoor retreat, a gazebo accommodates smoking as BLUSA Defense Manufacturing is a smoke free campus.
While the official move is still a few weeks away, the changes to the building are remarkable.