15th Annual Joint Munitions World Wide Review!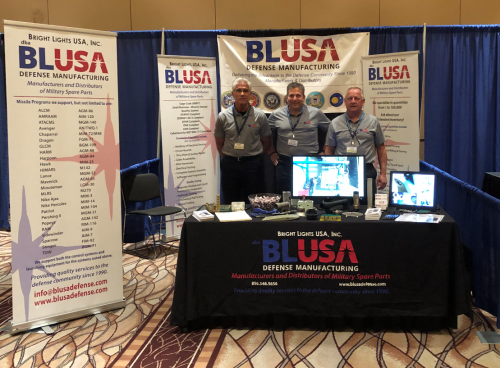 Las Vegas, Nevada – BLUSA Defense Manufacturing was proud to be an exhibitor of the Fifteenth Annual Joint Munitions World Wide Review (JMWWR) that was held from Sunday through Friday, September 22-27, 2019 at the RIO All-Suite Hotel and Casino. The JMWWR is an event that gathers members of the global munitions community together to share information and ideas. The Tactical Missile Technical Coordination Group (TMTCG) Robins AFB, Georgia and Precision Guided Munitions Technical Coordination Group (PGMTCG) Hill AFB, Utah had a strong turnout of participants from all over the world. The attendees represented 30+ countries and included US Government personnel and supporting contractors.
BLUSA Defense Manufacturing has been attending the Review since 2018. This year Dan Farber President and CEO, Robert Ruoff Director of Sales & Project Management, and Ross Davis Quality Assurance Manager represented #TEAMBLUSA at the event and were on hand to meet all the attendees at the JMWWR. As an approved manufacturer for the U.S. Government and various OEM's, we had the opportunity to chat with attendees about our capabilities and our ability to supply a wide variety of military spare parts for various platforms. We were especially excited to share our broad capacity to support Missile Programs including the AIM, ALCM, AMRAAM, ATACMS, Avenger, Chaparral, Dragon, GLCM, Harm, Hawk, Hellfire, Himars, Lance, Maverick, Minuteman, MLRS, Nike, Patriot, Pershing II, Popeye, Sidewinder, Sparrow, Stinger, and TOW.
The 15th Annual Joint Munitions World Wide Review was informative and enjoyable. "This was a small focused show and we walked away with various opportunities to bid and promising leads to pursue. It was a definite success!" Robert Ruoff said at the end of the conference. "We made several legitimate contacts this year and we are looking forward to participating in 2020," said Ross Davis. If you plan to attend 2020's JMWWR conference, please stop by the #TEAMBLUSA booth to discuss the many exciting things that we are doing.