BLUSA Defense Manufacturing Supports Eagles Autism Challenge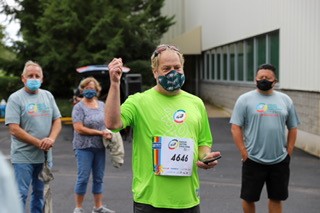 BLUSA Defense Manufacturing is proud to support the 3rd annual Eagles Autism Challenge. Due to the ongoing health crisis, this year's event was held virtually. Although it looked different from previous years, the event still was a huge success. Thanks to 3000 virtual teams from 14 countries, along with 284 fundraising teams, the event raised over $3.1M for groundbreaking autism research and care programs.
Team BLUSA Defense Manufacturing, headed by Captain Jeff and Co-Captain Jessica, fielded close to 40 team members along with their families. We completed a socially distant 5K walk around our beautiful, new facility and raised $3538.00, exceeding our original team goal. Special thanks to Wanda, Jessica's mom, for providing amazing handmade Eagles masks to donors.
Faylene, a Customer Service Representative and first-year participant said,
"My family and I had a fun time with my co-workers. It was a beautiful day to support such a great cause. My children had an awesome time as well. They especially enjoyed the snacks and the live music. All in all, it was an awesome time and an awesome walk. See you all next year!"
Gagan, a Production Scheduler said,
"It was really amazing and exciting experience for me to be a part of the Eagles Autism Challenge with Team BLUSA. This was my first year participating in this challenge, but I completed the 5K by walking 8 laps around the building. It was fun participating with my coworkers and their families."
The overwhelming financial support of the team and the fantastic turnout of walkers once again shows what an amazing family we have at BLUSA Defense Manufacturing. We are hopeful that next year we will grow our numbers and that the Eagles Autism Challenge will be back on the streets of Philadelphia.
Photos from BLUSA's Eagles Autism Challenge