Wear Pink! Breast Cancer Awareness Month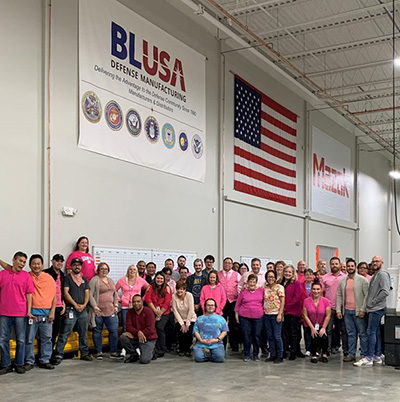 October is Breast Cancer Awareness Month. Breast Cancer kills 40,000 American women each year and every year we wear PINK to raise public awareness and show our support for those that are battling this disease. For 2019, BLUSA Defense Manufacturing wants to do more so we are partnering with the Susan G. Komen organization to help them achieve their bold goal – to reduce the number of breast cancer deaths by 50% in the U.S. by 2026. To that end, BLUSA Defense Manufacturing supports #BreastCancerAwareness month with our team members raising funds through our Wear Pink on Friday Campaign. Every Friday in October, BLUSA Defense will donate $10 for each employee that wears Pink.
Speaking with #TeamBLUSA employees, it seems almost everyone is affected by this disease, either directly or indirectly. Scott Shapiro said, "My mother was diagnosed with Breast Cancer in 2008. She is still around 11 years later because of breakthroughs in research and medicine. Every dollar helps and that is why I will be wearing Pink every Friday in October." Karen Nichols said, "My sister went through having Breast Cancer at an early age. Even though there is nothing good about having cancer, one of the best things that happened is her circle of supporters has grown because of all the contributors to this cause. I thank everyone that has given to this organization and continues to give so that others that come down with this terrible disease can also benefit from the help."
The National Breast Cancer Foundation reports that a woman is diagnosed with breast cancer every two minutes. That means one in eight women will be diagnosed with this disease in her lifetime. The money raised by the Susan G. Komen organization will go toward innovations in research, surgical options, and clinical trials that give women more options. BLUSA Defense Manufacturing is proud to be supporting this cause by raising money that can help to give women more and better options to fight this disease and increase their chances of survival.
Stay tuned for BLUSA GOES PINK, October 2020.