BLUSA Defense Manufacturing, Equipment Depot, and PPG Aerospace Join together to save lives in the local community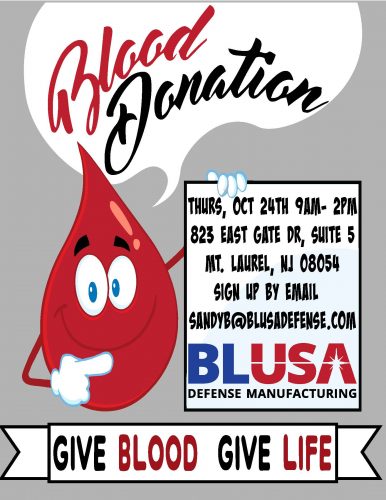 BLUSA Defense Manufacturing is proud to partner with the American Red Cross and our Mount Laurel neighbors Equipment Depot and PPG Aerospace to host a Blood Drive this month.
Blood is the most precious gift that you can give to another person, it is literally "the gift of life". Your donation, about one pint, can be divided into the three primary components, red blood cells, plasma, and platelets. Each of these components can be used separately – saving up to three lives.
Why should you donate? Some people donate because a family member or a friend might need blood someday or because they believe that it is the right thing to do. Some people just donate for the free cookies and juice. Whatever the reason, you will feel great knowing you are saving lives!
Are you eligible? In order to donate you must be in good health and feeling well, at least 18 years old, and weigh at least 110 pounds. Additional eligibility criteria apply, for more information please visit www.redcrossblood.org.
Your blood donation will be an amazing gift to people in need, both in an emergency and for on-going medical treatment. It will be used to treat patients of all ages with a multitude of ailments: accident and burn victims, heart surgery, organ transplant patients, trauma patients and those battling cancer. Every two seconds, someone in the U.S. needs blood and that means one in seven people entering a hospital will need blood. Are you ready to donate?
BLOOD DRIVE
Where:
Equipment Depot Headquarters Building
823 East Gate Drive, Suite 5, Mount Laurel, NJ
When:
Thursday, October 24th, 2019 from 9am-2pm
To schedule an appointment, please contact one of the following people:
Equipment Depot:
Christine Worthham at 856-751-3650 x 5514 or
Email: christine.wortham@eqdepot.com
BLUSA Defense Manufacturing:
Sandy Brown at 856-546-5656 x172 or
Email: sandyb@blusadefense.com
PPG Aerospace:
Stacey Claas at 856-437-2121 or
Email: sclaas@ppg.com
Help save lives in our local community!